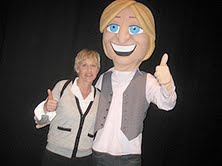 In one episode of her popular talk show, Ellen DeGeneres bemoaned the fact that she couldn't be in two places at once. Lots of people wanted her at events, but her schedule was packed.
John Kernaghan was listening to her show that day.
He's a Toronto-based mascot maker. His company, Hogtown Mascots, makes life-sized puppets that are used as "mascots" for companies and sports teams.
He decided to make it possible for the entertainer to be in two places at once.
John created a giant mascot costume that looked just like Ellen DeGeneres. And then he sent it to her.
Three weeks later he got an email from her staff. "Thanks for the great costume, we love it! Watch tomorrow's show."
Sure enough, the next day "Mascot Ellen" came out and danced with the real Ellen. The crowd went wild.
That was in 2008. Mascot Ellen appeared on the show a number of times that year. Kernaghan still sees the mascot pop up in her "best-of" segments from time to time.
Having his mascot on the Ellen show exposed his mascot company, Hogtown Mascots, to a huge audience.
He uses pictures of the mascot on his company's website for new clients to see. He also shot a time-lapsed video of him making the costume (below).
Two years later, Kernaghan's company built a mascot of late-night comedian Steve Colbert. "It seemed like a good fit with his show," says Kernaghan. "He's a little bit goofy; and his face lent itself to being "mascotted."' (Kernaghan made up that verb and he hopes it will catch on.)
Colbert used Kernaghan's mascot on his show. He even joked that he was going to take on a summer job as a mascot at a local amusement park.
Today, John's mascot business–which started in his basement–is booming. He creates about 40 mascots a year, and he is the official caretaker of the Sesame Street gang when the characters appear for photos in Canada at places like the CN Tower.
But Kernaghan is not finished with Hollywood yet. He's got another big idea up his sleeve. He's building the likeness of an actor who is on a very popular nighttime television comedy.
Kernaghan won't give away what it is yet, but he has promised to give Teaching Kids News an exclusive interview when that character is finished. So, stay tuned!
This video (2.49 minutes) shows how Mascot Ellen was used on the show.
Here's a time-lapsed video showing how the Ellen Mascot came together.

CURRICULUM CONNECTIONS
By Kathleen Tilly
Writing/Discussion Prompt: 
When John Kernaghan began his business making mascots, very few people knew about it.  However, he and his company became very well-known when he decided to send Ellen DeGeneres her own larger-than-life mascot. Once it was featured on her popular television show, millions of people around the world knew about Kernaghan's company.
Businesses work very hard to tell people about their products. What are all of the different ways that you learn about new products or companies? In your opinion, which ways are the most effective? Why?
Reading Prompt:
Watch the two videos of Ellen's mascot. How do these videos help you to better understand the article?
Primary
Identify some text features and explain how they help readers understand texts (OME, Reading: 2.3).
Junior
Identify a variety of text features and explain how they help readers understand texts (OME, Reading: 2.3).
Intermediate
Identify a variety of text features and explain how they help communicate meaning (OME, Reading: 2.3).
Grammar Feature: Verb Tense
We write either in the past, present or future tense.  For example, if you want to write about walking to the store, you can do so using three tenses:
1. I walked to the store. (past tense)
2. I am walking to the store. (present tense)
3. I will walk to the store. (future tense)
Read the article carefully and identify if each verb is written in the past, present or future tense.