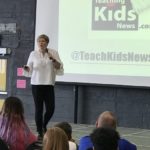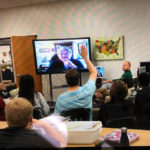 WE CAN VISIT YOUR CLASSROOM
We do super-interesting and informative in-class presentations, for students and for educators, as well as keynotes and presentations to educators, on  "fake news," how to spot it and how to avoid it.
To book Joyce Grant for an in-class, conference presentation or Skype visit, please CLICK HERE. Thanks!
RESOURCES to help you "AVOID FAKE NEWS" and foster CRITICAL THINKING
Click the BOLD, RED words for the link to the article or resource. We are adding to this list all the time. Visit often for up-to-date resources–the newest links are at the top, labelled "NEW!".
NEW! A fun and quick video that really drives home why it's so important to CHECK YOUR FACTS. By the News Literacy Project. You will want to share this with your students.
This article in THE SACRAMENTO BEE talks about a new bill proposed in California, to develop "statewide school standards on internet safety and digital citizenship, including cyberbullying and privacy."
Great article in the NEW YORK TIMES ABOUT PRINT VS. DIGITAL NEWS: Reporter "took a step back in time," as he puts it, and read news only from printed newspapers for two months. Here are his fascinating insights about the good and the bad of print vs. digital news. From the article: "Real life is slow; it takes professionals time to figure out what happened, and how it fits into context. Technology is fast. Smartphones and social networks are giving us facts about the news much faster than we can make sense of them, letting speculation and misinformation fill the gap."
Click the picture of the coffee pot, below, for the full article. It's a must-read for educators interested in media literacy and news.
If you're an educator interested in media literacy, here's the study you want to check out: STANFORD STUDY ABOUT KIDS AND FAKE NEWS.
Researchers at Stanford University wanted to know if kids can recognize–and avoid–fake news. The bottom line: not very well.
Check out their study, which talks about what kids were asked to do (ie, tell the difference between an ad and advertorial) and how they approached it.
The study looks at kids who were good at critical thinking (ie, uncovering fake news), kids who were okay but still had much to learn and kids who weren't able to distinguish between real and fake news.
It's a fascinating look at kids and media, and many of the results may surprise you.
VANESSA OTERO'S AWESOME MEDIA BIAS CHART can help you plot your favourite "real news" sources. (NOTE: Don't use her chart without crediting Vanessa Otero and/or linking to her website, AllGeneralizationsAreFalse.com–her chart is copyrighted.) In fact, you should check out VANESSA OTERO'S WEBSITE, ALLGENERALIZATIONSAREFALSE.COM for tons of great information on bias and the news.
HOW TO DO A GOOGLE REVERSE IMAGE SEARCH (includes links to places where you can do this). Here's why a reverse-image search is useful: Let's say there's a picture of a living room with a real live shark swimming around in it! Crazy, right!? Well, you might want to double-check whether that's a real image or one that's been Photoshopped. You can do a reverse-image search and find the original image. If it's, say, a living room with no water and no shark, then you've got your answer!
THE HOUSE HIPPO — "That looked really real–but you knew it couldn't be true." One of our favourite go-to videos about critical thinking, still holds true today–even more, in fact. By Concerned Children's Advertisers. YouTube video, 1:02.
Toronto Star reporter DANIEL DALE is @ddale8 on Twitter.
He's in the trenches, uncovering facts, digging around and fighting fake news on a daily basis.
BBC'S INSIDE LOOK AT THE WHITE HOUSE PRESS CORPS and how they cover the president. (YouTube, 13:49 but totally worth the time–so interesting.)
This shows you just how difficult it can be to get the information you need to write your news article.
WHERE DO AMERICANS GET THEIR NEWS? Stats, info–Pew Research Centre.
The website "REAL OR SATIRE" can help you figure out if an article is real or not. "A searchable database of fake news sites."
Who are the people who create fake news? The University of Massachusetts Amherst and the University of Leeds in the UK teamed up to find out. Read THEIR INTERESTING REPORT, "ARCHITECTS OF NETWORKED DISINFORMATION" on who these people are, and why they do what they do.
Download executive summary HERE.  Download full report HERE.
What's FACEBOOK DOING TO DISCOURAGE FAKE NEWS? This is Mark Zuckerberg's statement. One of the things they're doing is to ask people to rank a source's trustworthiness; they're hoping that will help to identify some fake news sources. (If you Google this topic, you'll see lots of columns and insights on what these new Facebook initiatives may mean. It's an ongoing project, and these are merely the early stages.)
Stanford University recently published this STUDY ABOUT THE INFLUENCE OF SOCIAL MEDIA AND FAKE NEWS IN THE 2016 US ELECTION.
Common Sense Media's video, 5 WAYS TO SPOT FAKE NEWS.
"How Stuff Works" — a pretty good little flipchart-type presentation: 10 WAYS TO SPOT FAKE NEWS.
THREE LESSON PLANS about "fake news" from Cool Cat Teacher.com.
*We can't fully vouch for third-party links–the ones above are all useful, in our opinion, but their owners could change the material on them at any time, etc. etc. etc., blah, blah, blah. (Please excuse the legalese.)
Also, if you have an excellent resource about "fighting fake news" please let us know on OUR FACEBOOK PAGE.