Tag:
zoo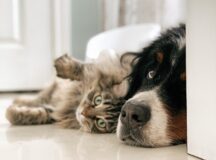 Animals
News
Pets don't need the COVID-19 vaccine–here's why.
Animals
News
For two years, the Toronto Zoo and Toronto City Council have been trying to agree on the best way to move three senior elephants to California.
The elephants are quite old and must be treated very carefully.
Now, if all goes well, Toka, Thika and Iringa will begin their trip next month.
At first, they were to make the move by plane, but that idea was turned down in favour of driving.
Now they will go in containers on a 50-hour journey with several stops along the way for feeding and cleaning of the crates.
Veterinarians and handlers will go with them on the trip to make sure the animals are safe and not stressed.
Animals
Toka, Thika and Iringa are the last three elephants living at the Toronto Zoo. They will soon be moving to a new home, but they don't know where yet.
They are waiting for the zoo to decide the best place for them.
For many years, the elephants have been one of the most popular attractions at the Toronto Zoo.
However, since 1984 seven elephants have died at the zoo and now the last three are getting old. The zoo has decided to send them somewhere else to live out their remaining years.