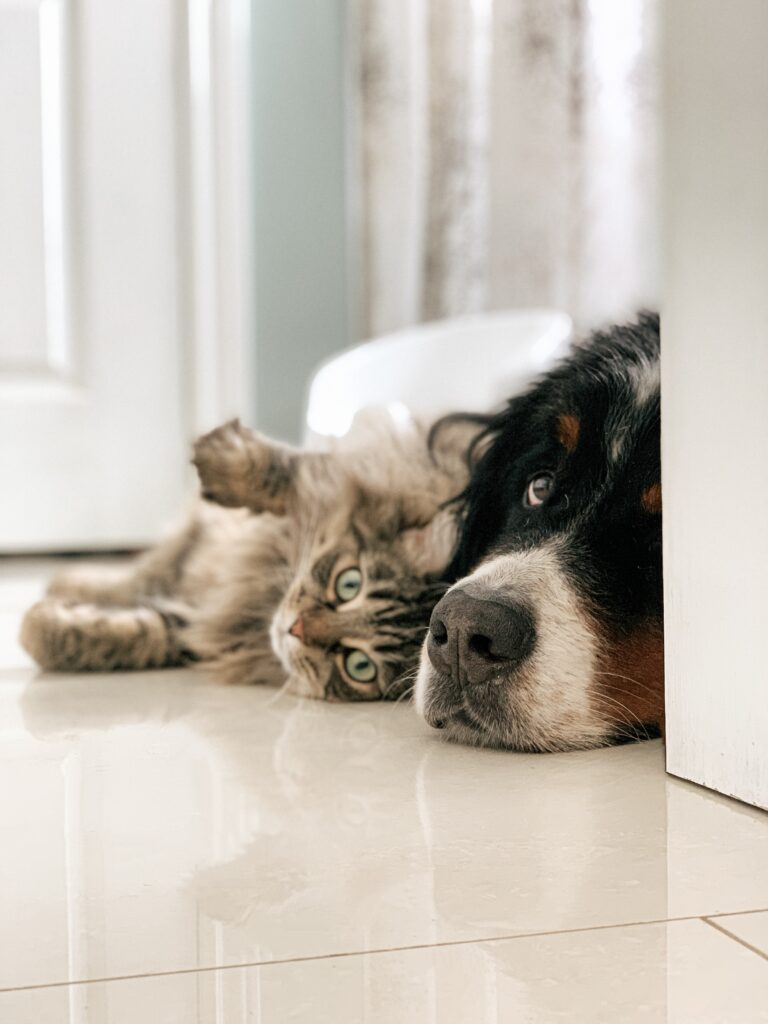 We all know it's important for people to get vaccinated against COVID-19, but why don't we have to vaccinate our pets?
According to scientists and veterinarians, vaccines for pets aren't necessary. That's because pets rarely get COVID-19 and the few that do have very mild symptoms, like a cough or a runny nose. Or no symptoms at all.
At the beginning of the pandemic, back in March 2020, a few cases of dogs and cats with the virus turned up in Hong Kong. Drug companies quickly began working on vaccines for pets. But they stopped because they realized that a pet vaccine for COVID-19 wasn't going to be necessary.
There have been no cases of dogs or cats passing the virus on to their owners, or spreading it to other dogs and cats.
Some of the vaccines that were being developed for pets were turned into vaccines for other animals instead. These animals, including minks being raised on farms, and some types of zoo animals, are a bit more likely to get sick from the virus.
Many zoos around the world are now giving vaccines to animals such jaguars, orangutans, otters, ferrets, and gorillas, in order to protect the animals as well as the people who work with them or visit the zoo.
Vaccines for zoo animals have not been approved in Canada yet. The Toronto Zoo—the largest zoo in Canada—plans to vaccinate all some animals including gorillas and orangutans, lions and tigers, bats, weasels, badgers and otters as soon as it is allowed to.
A company called Zoetis developed the vaccine for large animals that has been used in some zoos in the United States. Zoetis plans on donating 900 doses of the vaccine—enough to vaccinate 450 animals with two doses each—to six Canadian zoos including The Toronto Zoo as soon as the drug is allowed to be taken across the border from the US.
Dolf DeJong, CEO of the Toronto Zoo, said in a news release that it is especially important to make sure endangered species who live at the zoo do not develop COVID-19.
THINK & DISCUSS
What is your favourite animal? Is it a "pet" or a "zoo animal"? Why do some animals live in people's homes while others live in zoos?
Why don't cats and dogs have to be vaccinated?
If you owned an orangutan, would you get it vaccinated? Why or why not?
Why do you think Zoetis, the company that makes a vaccine for large animals, is donating 900 doses to Canadian zoos?
Find an article about large animal vaccination in countries other than Canada or the United States. Write down three facts from the article that you find interesting.
LINKS
CityNews article about the Toronto Zoo and five others in Canada planning to give the COVID-19 vaccine to zoo animals: https://toronto.citynews.ca/2021/11/25/toronto-zoo-animals-covid-19-vaccine/
Calgary Herald article about zoo animal vaccinations being planned for Calgary: https://calgaryherald.com/news/local-news/calgary-zoo-to-vaccinate-some-animals-when-doses-of-covid-19-vaccine-arrive-in-canada
Lots of information about this on the Canadian Veterinary Medical Association website: https://www.canadianveterinarians.net/coronavirus-covid-19-animals-in-canada
The World Organization for Animal Health website has information about large animals and COVID-19: https://www.oie.int/en/what-we-offer/emergency-and-resilience/covid-19/#ui-id-2