Tag:
storm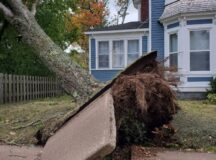 News
People in eastern Canada are cleaning up after tropical storm Fiona.
Environment
News
To help his home city "bounce back" after a terrible storm, NBA player Kevin Durant has donated $1-million.
The number of people harmed by a recent tornado in the U.S. state of Oklahoma was greatly reduced, thanks to a special early-warning system.
On Monday, a major tornado hit Moore, a suburb of Oklahoma City.
A tornado is a violent storm that usually looks like a whirling funnel.
Residents were warned there was a big storm coming, and possibly a tornado, days before it arrived.
When it actually hit, sirens blared, giving people a 16-minute head start to find shelter.