Tag:
Australian Open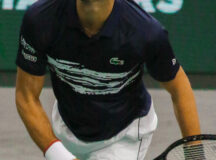 News
Sports
Top male tennis star Novak Djokovic has been sent away from Australia before the Australian Open tournament.
News
Eugenie "Genie" Bouchard from Montreal, Quebec, recently made tennis history for her country.
She made it to the semi-final round of a tournament called the Australian Open.
Bouchard is the 30th ranked female tennis player in the world.
On Monday she played against Ana Ivanovic, the 14th ranked female tennis player in the world.
Ivanovic had just recently beaten the world-number-one ranked female tennis player, Serena Williams. With that huge win, Ivanovic seemed poised to beat Bouchard.
However, Bouchard had other plans.
Sports
Andy Murray is having a good year—a very good year.
All of his career, the 25-year-old tennis player has been plagued by the fact that he has never won a major tennis tournament.
On the weekend, he put that doubt to rest by winning the US Open.
The US Open is one of the big four, "Grand Slam" tennis tournaments.
The others are the Australian Open, the French Open and Wimbledon.
Britain has been waiting 76 years for a male player to win a Grand Slam singles event.
Murray had been waiting all his life.