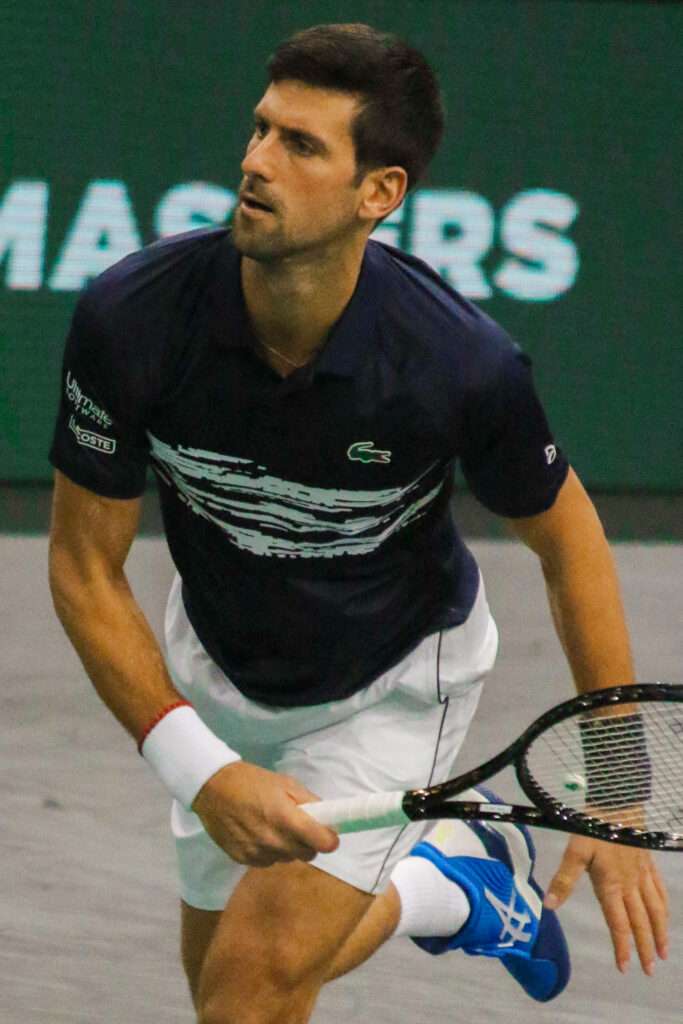 The number-one male tennis player in the world is Novak Djokovic, from Serbia.
On Sunday he was sent away from Australia, where he had been hoping to play in a very important tournament, the Australian Open. Last year, he won the tournament.
Djokovic has chosen not to get vaccinated against COVID-19.
In Australia, COVID-19 is spreading rapidly. The government has tight restrictions on who is allowed to travel to the country during the pandemic. With very few exceptions, unvaccinated people are not allowed to enter the country.
Djokovic said he recently had COVID-19 and has recovered. Experts say getting COVID-19 may give you some protection against getting it again or from getting extremely sick from it if you do get it again.
At first, the Australian tennis association and government officials decided to let Djokovic play in the tournament. They gave him a temporary travel visa, which let him stay in the country.
However, they changed their mind and he was sent away ("deported"). Djokovic is going by their rules and on Sunday he left Australia to go back to Serbia. The Australian Open tournament begins today.
People who don't think they should have to be vaccinated (they are often referred to as anti-vaxxers) support Djokovic's decision to not get the vaccine. Most doctors and scientists say getting the vaccine is the best way to prevent getting, or passing on, COVID-19.
Last month, while doing an interview with a journalist and while he was infected with COVID-19, Djokovic took his mask off for a photo shoot. He said he regrets doing that.
There was more than a week of back-and-forth decisions and discussions before Djokovic was sent out of the country. Some people point out that if the government didn't think Djokovic should come to Australia if he was unvaccinated, they should have told him from the start. Then, he never would have travelled to the country.
The female and male winners of the 2022 Australian Open tennis tournament will each take home $4.4 million (up from $2.75 million in 2021). Second prize is $2.2 million (up from $1.5 million in 2021), according to SportingNews.com.
Thank you to contributors Kevin Goldmintz and Jodi Mullen in Australia.
THINK & DISCUSS
Australia's prime minister, Scott Morrison, approved the decision to send Djokovic away. The people of Australia will vote to elect a leader in May. Do you think these two things are in any way connected? If so, how?
2. Point-of-view is very important to consider when reading a news article. In this case, if you look at things from Djokovic's point-of-view, perhaps he is disappointed or angry at being sent away. How do these events look from different points of view? Here are some examples to get you started: Serbia's tennis association; Australian tennis fans; Felix Auger-Aliassime (Canadian male tennis player ranked 9th in the world); Ashleigh Barty (number-one ranked female tennis player–she is from Australia); Djokovic's family; hospital workers in Australia; Daniil Medvedev, who–with Djokovic not playing in the tournament–is said to be the player most likely to win it this year. Medvedev came in second to Djokovic last year.
3. Here are two opinions. Take a side and think about its pros (good things) and cons (bad things). Then, with a partner who takes the other side, discuss. Try to convince each other to agree with your point-of-view. (1) Famous people should have different rules than the rest of us. They bring many fans to the sport, who pay a lot of money and contribute to the success of the sport. (2) Djokovic should have to follow the same rules as everyone else.
4. A lot of people are upset about: (a) having to get the vaccine, or (b) people not getting the vaccine. Discuss.
5. There is a lot of "disinformation" or "fake news" about the COVID-19 vaccine online. Have you seen any videos or articles that you suspect are not accurate? How do you spot fake news about COVID-19?
6. Journalists are supposed to write news articles in a way that doesn't take sides. Do you think journalist Joyce Grant succeeded in writing an unbiased article about this situation? Why or why not? If not, what do you think Grant's opinions are about the COVID-19 vaccine? What in this article leads you to think that?
7. It took more than a week for officials to decide to sent Djokovic away from Australia. Do you think that was fair? why or why not?
8. A senior government official in France recently told the news media that the vaccine rule will be upheld for the French Open tennis tournament, scheduled for May. Discuss what you think will happen in the future–not just for tennis players but for people in other professions as well.
RELATED ARTICLES & INFORMATION
Recent article in Australian newspaper The Age: https://www.theage.com.au/sport/tennis/djokovic-touches-down-in-belgrade-as-fresh-grand-slam-storm-awaits-20220117-p59oxm.html
CTV News article: https://www.ctvnews.ca/sports/novak-djokovic-leaving-australia-after-losing-deportation-appeal-1.5741947
The BBC did intensive coverage of the many events involved in Djokovic's deportation, especially over the weekend. Here is a link to that coverage, and the names of nine journalists who covered the story (in addition to others): https://www.bbc.com/news/live/world-australia-60001871
Australian government website with its travel rules: https://covid19.homeaffairs.gov.au/travel-restrictions
SportsNet article: https://www.sportsnet.ca/tennis/article/australian-open-storylines-djokovic-absent-fernandez-returns-grand-slam-stage/
CNN article: https://www.cnn.com/asia/live-news/novak-djokovic-australia-visa-news-01-16-22-intl-hnk/h_2ac17d6c7ba46c302bb53a198c72ba8e
CBC Sports article about what other Australian Open tennis players are saying about the Djokovic situation: https://www.cbc.ca/sports/nadal-other-tennis-players-tired-of-djokovic-saga-1.6316378
How much do the winners get at the Australian Open? SportingNews.com article: https://www.sportingnews.com/au/tennis/news/australian-open-prize-money-2022-how-much-money-do-australian-open-players-earn-total-purse/1vtvv5g794ox11w6rgofyjvp9e
Aljazeera news agency published this timeline of the events involved in the Djokovic decision: https://www.aljazeera.com/news/2022/1/16/novak-djokovics-bid-to-compete-at-australian-open-timeline#
---