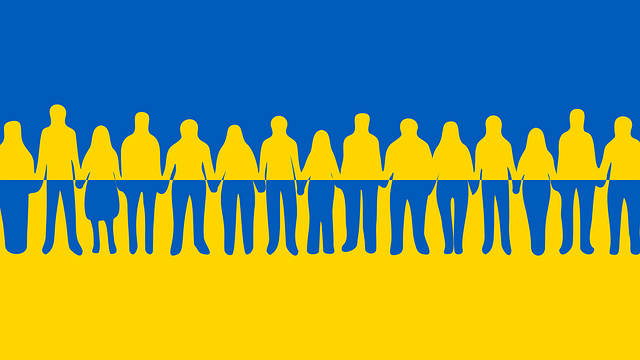 NOTE: This article may not be appropriate for everyone because it is about the war in Ukraine. If a news article is upsetting, it should be read with a trusted adult who can answer questions and concerns. Please see below for a list of kids' help lines.
The invasion of Ukraine by Russia is not just being fought by people and weapons. Technology, money and social media are being used in creative ways to help Ukraine.
While Ukrainians are fighting back against the Russian invaders, countries and businesses around the world are doing things to punish Russia and help Ukraine.
Companies boycotting Russia
This week, some of the world's best-known businesses including McDonalds, Starbucks, Coca-Cola and Pepsi have said they will stop selling their products in Russia. McDonalds opened its first restaurant in Russia in 1990. Today, there are 847 McDonalds restaurants there and the company says it plans to close many of them. McDonalds says it will continue to pay its 62,000 employees in Russia.
Other companies have decided to stop doing business in Russia as well. Credit card firms Visa and Mastercard, clothing store Nike, TV streaming service Netflix, computer firm Apple, online store Amazon and jeans store Levi's said they will stop selling their products in Russia, at least temporarily.
Some of these companies are also donating money and technology (for instance, Internet service) to Ukraine.
Competition bans
Eurovision is a very popular song competition in Europe; the famous band ABBA got its start after winning Eurovision in 1974. This year, Russia has been banned from the contest.
Russia has been banned from many other competitions as well, such as the 2022 Winter Paralympics which are on now until March 13 in Beijing, China. Athletes from Belarus (a country that is helping Russia) are also banned from the Paralympics.
The big soccer (called football in most countries) organizations FIFA and UEFA aren't letting Russian teams enter their competitions.
The World Athletics Council has banned athletes from Russia and from Belarus from events in the World Athletics Series. The World Athletics Series' main event is the World Athletics Championships, which is scheduled to take place this July in Oregon, US. It is the third-largest sporting event in the world, with more than 2,000 athletes competing.
The Formula 1 Russian Grand Prix car race was to take place in Sochi, Russia this September but it has been cancelled.
Andy Murray to donate
Major tennis events won't have any Russian or Belarusian teams in them either, according to the International Tennis Federation (ITF). Russians and Belarusian players can compete as individuals but not under the name or flag of their country. (That way, the glory of winning will not go to Russia or Belarus but the athlete will be recognized.)
One top tennis player, Andy Murray from the UK, has said he will donate all of his prize money for the rest of the 2022 tennis season to a children's charity to help young people affected by the Russian invasion of Ukraine.
"I'm working with UNICEF UK to help provide urgent medical supplies and early childhood development kits," Murray posted on Twitter on Tuesday.
Using Etsy, Airbnb to donate money
Many people around the world want to help people in Ukraine by sending them money. However, because many of them have left their homes or don't have access to a bank, that can be difficult. Some people have come up with a clever solution that involves websites like Etsy (which sells crafts) and Airbnb (which does short-term home rentals, usually for vacationers).
Tens of thousands of people in countries far away from Ukraine are "buying" Ukrainian arts and crafts such as jewellery, or "renting" homes in Ukraine. Except, the person doing the buying doesn't actually take possession of the art or use the home. They just send the money. That way, the Ukrainian owner gets the money (essentially a donation) over the Internet through the websites like Etsy or Airbnb.
THINK & DISCUSS
1) Many companies are stopping sales of their products in Russia. Who will this affect? How will it help Ukraine?
2) Why are companies siding with Ukraine against Russia?
3) If you owned a fast-food chain that had restaurants in Russia, would you close it to protest the war? What might that do to your business? Would you continue to pay your employees in Russia? Why or why not?
4) The article mentions Eurovision. What is it? If you're not familiar with it, think about a song competition you are familiar with (for instance The Voice, American Idol, The Launch (in Canada) or Britain's Got Talent). What are the similarities and differences?
5) Russian athletes can compete in some competitions but not represent their country. Discuss.
6) People are finding ways to get money into the hands of people in Ukraine. Using information from the article, explain what they are doing. Can you think of other ways to use technology for this purpose?
7) Tennis star Andy Murray is donating some of his winnings to help children in Ukraine. Before you Google it, how much money do you think that will be? How would you determine that amount? Now Google it. How will you determine or estimate the amount of money Murray may donate?
LINKS
NEW: This BBC article talks about how the sanctions are affecting everyday life for Russians. (Gives a bit more detail than the video, below.)
This report (2:27 video) by BBC's Russia Editor Steve Rosenberg (@BBCSteveR)—who lives in Russia—gives an idea of how the West's sanctions and business closures are affecting people there.
Business Insider's article with a list of the companies pulling out of Russia.

FastCompany article about McDonalds' Russia closures.
BBC article about the Eurovision ban.
Rolling Stone article about ABBA winning Eurovision in 1974.
CNN article about the sports Russia has been suspended from.
Statement by the International Tennis Federation about the banning of Russia and Belarus.
The Association of Tennis Professionals (ATP) statement about Andy Murray.
Cnet.com article about the creative ways people are getting money into the hands of Ukrainians, using the Internet.
Kids' Help Lines
Are you upset by the news these days? You're not alone. One thing you can do is to ask questions of a trusted adult. You may also want to cut back on the amount of news you consume. If you're a young person in Canada you can also call Kids Help Phone at 1-800-668-6868 or text CONNECT to 686868. Visit their website here.
Other countries have similar services: In the UK visit Childline at https://www.childline.org.uk/. In Australia visit Kids Helpline at https://kidshelpline.com.au/. In New Zealand, Kidsline—Lifeline Aotearoa: https://www.lifeline.org.nz/services/kidsline. Netherlands: https://www.kindertelefoon.nl/. Germany: Child helpline, 116111 or https://www.nummergegenkummer.de/.
We would like to add to this list. Let us know on our Facebook page of other countries' children's helpline services.