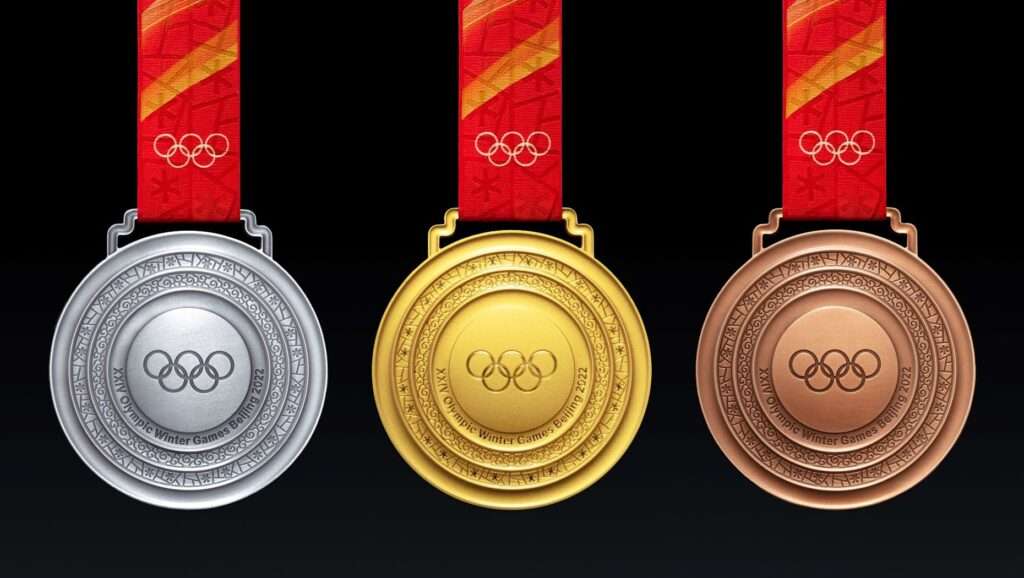 In spite of the pandemic, the 2022 Winter Olympic Games kicked off in Beijing, China on February 4—something that wasn't so certain just a few short months ago when the possibility loomed that they might be cancelled or scaled back significantly.
The games run until Sunday, Feb. 20. The winter Paralympics are scheduled to run from March 4 to 13.
The pandemic has made the 2022 winter Olympics unlike any other. Some athletes tested positive for COVID-19 and had to quarantine (separate themselves from everyone for a period of time) to avoid spreading the virus. Others missed the Olympics entirely and had to stay home because they had COVID-19. Still others were able to recover and compete.
The athletes are tested every day at the games and audiences are limited for most events to allow for social distancing. In fact, the audience members are asked not to cheer so they don't spread the virus (however sometimes they can't help themselves and end up cheering when something exciting happens).
No matter which country you're rooting for, there are inspirational athletes to cheer on and lots of interesting things that take place off the field of competition. Here are some of the interesting stories that have taken place at the 2022 Olympics so far.
Canadian snowboarder Max Parrot lost a whole year of training (from 2018 to 2019) due to cancer. He was diagnosed with Hodgkin's lymphoma in 2018. He told NBC news that while he was getting treatment for the disease, he "felt like a lion in a cage" because he couldn't train. Not only did he beat cancer, he went on last week to beat everyone in snowboard slopestyle to win the gold medal.
Long-time US Olympic snowboarder Shaun White gave his final Olympic performance. The popular snowboarder announced that the 2022 Olympics would be his last. He is a five-time Olympian with three gold medals in half-pipe snowboarding. Through his enthusiasm and fun personality, White got a lot of people excited about the sport and helped popularize it.
Despite the fact that it is a country with very hot weather and no snow except high in the mountains, Jamaica has a bobsleigh team. Its first four-person bobsleigh team competed back in 1988 and even inspired a movie, "Cool Runnings." Jamaica's bobsleigh team is back this year, ready to compete again.
During the medal ceremony, the three winners are usually handed a bouquet of flowers along with their medal. This year, athletes receive a hand-crocheted (wool) "bouquet." Each of the flowers in the bouquet has a symbollic meaning; for instance, "friendship, perseverance, happiness, unity, victory, bounty and peace," according to the China Daily. It takes volunteers about 35 hours to crochet one bouquet (about 20 minutes per petal) and 1,200 bouquets were created for the Olympics and paralympics.
Fifteen-year-old figure skater Kamila Valiyeva* from Russia (ROC) became the first woman to land a quadruple (four spins) jump at the Olympics.
Zoi Sadowski-Synnott won New Zealand's first-ever gold medal at a winter Olympics. She won for snowboard slopestyle. Her win was so exciting that the other two (US and Australian) medallists cheered her on and even gave her a big hug that landed them all in a heap in the snow. They told reporters the sport is very friendly and the athletes tend to see each other as friends as well as competitors.
—
*It recently came to light that Valiyeva failed a test in December for banned substances; she will be allowed to compete but there may be consequences for the ROC team. Athletes under 16 are not held personally responsible for the ingestion of banned substances.
THINK & DISCUSS QUESTIONS
Have you been watching the 2022 Winter Olympics? Why or why not?
What media (for instance, TV, Internet, radio, apps) do you use for news about the Olympics?
Depending on which country you're from, the news in your country will likely list different "best moments" from the games. For instance, a US website may list mostly US accomplishments. What do you think is the best way to get news about the Olympics about other teams than your own country's?
It has been very expensive and time consuming for Beijing, China to host the games. What do countries get from hosting the games? And what do you think is the downside of hosting the games?
Name some other countries that have hosted past winter or summer Olympics.
Why is it so unusual for Jamaica to compete in a winter Olympics? How do you think their athletes trained for the sport? What happened during the 1988 Olympics to that team that showed their perseverance and heart?
The article notes that spectators are asked not to cheer. Why is that? What in the article tells you? Do you think you would be able to stop yourself from cheering if your country's athletes did something exciting?
RELATED LINKS
TheCut.com: https://www.thecut.com/2022/02/2022-olympics-best-moments.html
CBC: https://www.cbc.ca/sports/olympics/winter/opinion-shireen-ahmed-weekly-notebook-feb-11-1.6347979
More about Max Parrot on NBC's website: https://www.today.com/news/sports/canadian-max-parrot-beats-cancer-win-olympic-gold-rcna15283
Women's Health magazine on Kamilas Valieva's quad: https://www.womenshealth.com.au/15-year-old-kamila-valieva-became-the-first-woman-to-land-a-quadruple-jump-at-the-olympics/
Guardian article about Kamila Valieva's heart medication situation: https://www.theguardian.com/sport/2022/feb/13/kamila-valievas-choreographer-says-talented-skater-has-no-need-for-drugs
Olympic website's article about the Jamaican bobsleigh team and the movie Cool Runnings: https://olympics.com/en/featured-news/jamaican-bobsleigh-team-1988-winter-olympics
Interweave article about the crocheted bouquets: https://www.interweave.com/article/crochet/crochet-bouquets-at-the-olympics-2022/
Olympic medals: https://olympics.com/en/news/olympic-winter-games-beijing-2022-medal-designs-unveiled
ESPN article about the Olympic COVID-19 restrictions for athletes and spectators: https://www.espn.com/olympics/story/_/id/32470994/2022-winter-olympic-athletes-daily-tests-covid-19-remain-closed-loop-games-venues
CNN's timeline of events leading up to the 2022 Olympics: https://www.cnn.com/2021/05/26/world/2022-beijing-winter-olympics-fast-facts/index.html