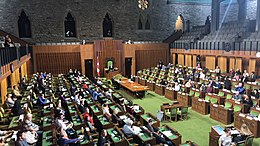 On September 20, The Liberal Party of Canada was re-elected to lead the country, winning a minority government.
In other words, almost nothing changed.
In the country's 44th federal election the Liberals, led by Prime Minister Justin Trudeau, won 159 "seats" in parliament. In this case, 159 "seats" means that 159 Liberal Members of Parliament (MPs) were elected.
There are 338 seats in Canada's House of Commons (parliament). Each one represents an MP. The party with the most MPs elected wins the election and their leader becomes the prime minister.
Trudeau was hoping that the Liberals would win more seats than all the other parties combined (known as a "majority"). But, although the Liberals won the election, they didn't win the majority they were hoping for. In order for the Liberals to get a majority of the seats they would have had to have 170 MPs elected. They had 159 MPs elected, so they have a minority government.
The election cost Canadians more than $600 million.
Here are the results for the major parties from the last election (2019) and this one (2021):
Liberals led by Justin Trudeau: 159 seats (2021); 155 seats (2019)
Conservatives led by Erin O'Toole: 119 (2021); 119 (2019)
Bloc Québécois led by Yves-Francois Blanchet: 33 (2021); 32 (2019)
New Democratic led by Jagmeet Singh: 25 (2021); 24 (2019)
Green led by Annamie Paul (she has since stepped down as the party's leader): 2 (2021); 2 (2019)
THINK & DISCUSS
Almost nothing changed numerically because of the 2021 election, which cost more than $600 million to hold. Do you think there should have been an election? Why or why not? Before you answer this question, consider:
by law, elections must be held at least every four years in Canada
why did Trudeau call the election early?
what did Trudeau's critics say about the need for an election in 2021?
did the pandemic affect the election?
although the number of MPs didn't really change, did the election have an impact?
what other questions can you ask about the decision to hold or not hold an election?
2. Annamie Paul has resigned (stepped down) as the leader of the Green Party of Canada. Why?
3. The Bloc Québécois leader has no interest in becoming the prime minister of Canada and in fact, the party would like Quebec to be independent from the rest of Canada. Yet they participated in the Canadian federal election and came in third in terms of MPs elected. Explain.
4. CBC News says the 2021 election is the costliest in Canadian history. Why did it cost so much this year?
5. How do people in prison vote (and how do they know who to vote for)? What about people who can't get to a polling station because of a disability or lack of transportation or extreme weather? What about people who are out of the country on election day? Think about all the different communities that are affected by an election and the various ways people can vote (in person, advance polls, by mail, electronically, etc.) What is something interesting you discovered or hadn't thought of before?
6. Do all countries have the same voting rules as Canada? Research other countries' voting procedures and compare them to those in Canada.
LINKS
Check out this CTV article about Annamie Paul and her reasons for stepping down from the Green Party: https://www.ctvnews.ca/politics/elizabeth-may-won-t-be-green-interim-leader-says-annamie-paul-hurting-party-1.5608501
Learn more about the Bloc Quebecois here: https://www.blocquebecois.org/le-parti/
CBC article about the cost of the 2021 election: https://www.cbc.ca/news/politics/canada-election-expensive-cost-1.6164267
TKN article about the 2019 election: https://teachingkidsnews.com/2019/10/27/minority-government-will-require-cooperation/
TKN article about Britain's 2017 election, explaining "minority government": https://teachingkidsnews.com/2017/06/12/theresa-mays-majority-becomes-minority/
CBC article about the voting rights prisoners in Canada have: https://www.cbc.ca/news/politics/canada-votes-2019-voting-incarcerated-house-arrest-1.5285711