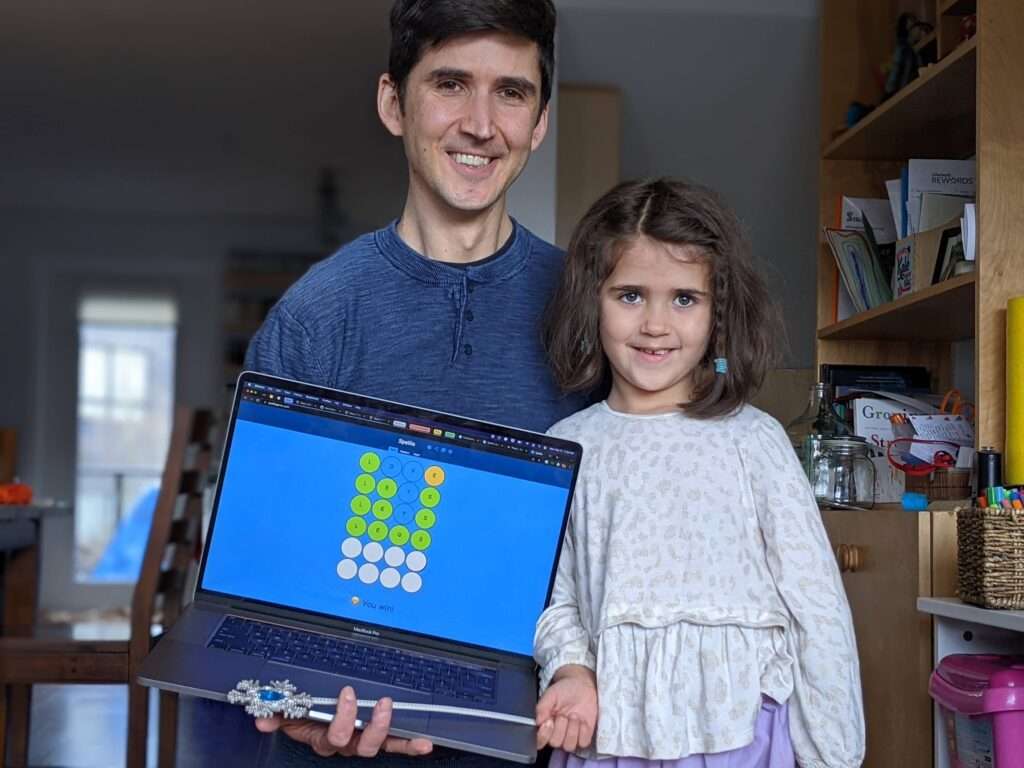 Christopher Porter got hooked on Wordle. That's the online spelling game that went viral late last year. He played it every day and had fun sharing his scores with his friends.
In Wordle, you have to figure out a five-letter word using guesses and clues.
(What's Wordle? Read TKN's article about it here.)
Unfortunately, Porter couldn't play Wordle with his daughter, Astrid, she was five years old and just starting to learn her letter sounds. She could make guesses, though, and start to zone in on the right answer.
"But then we had a string of puzzles where the answers were PROXY, QUERY and SHIRE—not words in a kindergartener's vocabulary," Porter said in an email to TKN.
So Porter asked his friends if any of them wanted to create a type of "Wordle Junior."
The Vancouver dad got an enthusiastic response from his friend, David Hirtle, who was frustrated that he couldn't play Wordle with his children, aged 8 and 11.
Together, they came up with Spellie (Spelliegame.com), which is very similar to Wordle but with a few differences. Spellie has three levels of difficulty, easy, medium and hard. The hardest level uses longer words, up to a grade five vocabulary. The easy level has words at about a grade two vocabulary.
"We also added a kid-friendly user interface, hints, and collectable emojis," said Porter. "We wanted this to be fun for kids. By playing they'll learn about logic, deduction, spelling, and common letter combinations. But the game has to be fun first."
The game is "open source," which means the computer code to create the game can be seen by other software developers, who can make suggestions on how to improve it.
"The beauty of open-source software is that it is easy for the community to contribute fixes and features to the original software," said Porter.
Spellie has been available to the public for 10 days. On the first day, they had 100 users, mostly friends and family members of the two developers. After some news media covered it, word has spread. Last Sunday, there were 7,800 players. Most of the players are in Canada but some are in the United States and around the world. Porter said he's gotten emails from people in Japan and Germany who say they're playing the game to help improve their English.
Porter says Spellie is free and has no advertising and it will stay that way.
"We've developed this game in our spare time and our fixed costs for running the site are low. We're lucky enough to have good day jobs that we can give Spellie away without having to try and make money from it," said Porter.
Thank you to Sarah Morris, who pointed us toward Spellie.
THINK & DISCUSS
Read the TKN article about Wordle here: https://teachingkidsnews.com/2022/02/07/do-you-play-wordle/ Try to list five similarities and five differences between Wordle and Spellie.
2. The article mentions that some people in Japan and Germany use Spellie to improve their English. Do you think this is a good way to improve your English? Why or why not?
3. What is "open-source software"? (And what from the article tells you that?)
4. If you were going to create a game, what kind of game would you make?
5. Christopher Porter said he is going to let people play Spellie for free. He is sharing the computer code he used with the public. Why do you think he is doing those things?
LINKS
Spellie is online here: https://spelliegame.com/
TKN's article about Wordle: https://teachingkidsnews.com/2022/02/07/do-you-play-wordle/
The open-source code for Spellie is here: https://github.com/canadianveggie/spellie
Wordle is here: https://www.nytimes.com/games/wordle/index.html
Christopher Porter wrote about the development of Spellie on his blog: https://canadianveggie.com/2022/02/11/introducing-spellie/ and https://canadianveggie.com/2022/02/19/week-1-spellie-updates/
CBC article about Spellie: https://www.cbc.ca/news/canada/british-columbia/kid-friendly-wordle-1.6354237