IKEA will soon be selling a toy created by a young designer from Saskatchewan.
Audrey Rogalski is 10 years old and lives in Saskatoon, Saskatchewan in Canada. Her drawing of peanut butter and jelly sandwich friends has been made into a plushie by IKEA, an international furniture store.
Rogalski entered the international retailer's annual Soft Toy Drawing Competition, which was open to kids under 12 years old. Her design was selected over more than 66,000 other entries. Hers is one of five designs that has been made into a soft toy and will be sold in IKEA stores. The other winners are from Lithuania, Poland, Russia and the United States.
The toy collection is called SAGOSKATT. IKEA is known for its interesting and unique product names. The SAGOSKATT collection of toys are all designed by kids and the money made from them goes to "local initiatives supporting children's right to play, develop and have fun," according to IKEA's website. Global News said a donation has already been made to Ronald McDonald House in Saskatoon.
A spokesperson for IKEA Canada said key considerations were that the toy would be safe, easily manufactured and colourful. They also looked for creativity and how unique the design was.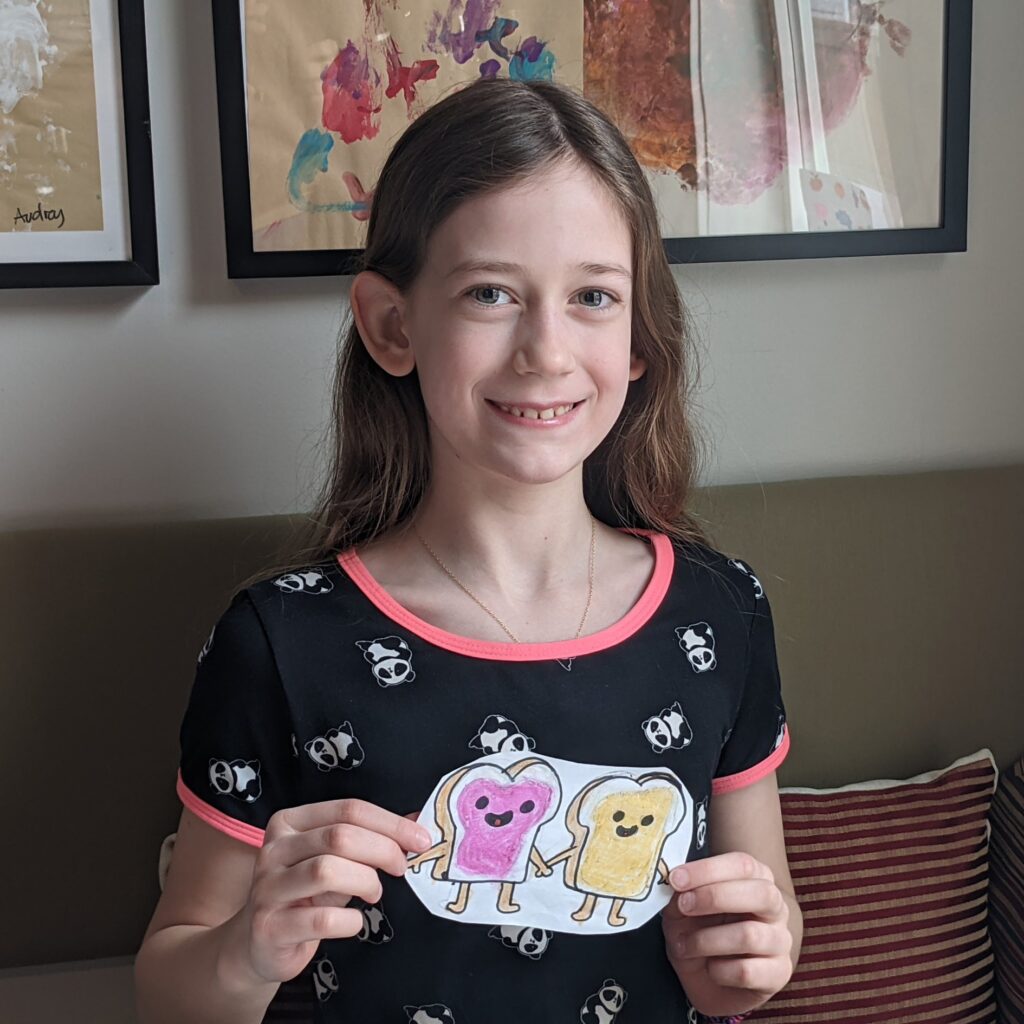 "My soft toy represents best friends who live in Canada. Peanut Butter is soft, and jelly is sweet which together make a wonderful treat," said 9-year-old Audrey in a virtual interview with IKEA Canada. "With Sandwich Friends I want others to be kind, careful and to always stay and take care of each other." (This comment from Rogalski was posted in a media release on IKEA's website; she was 9 when she entered the contest, but has since turned 10.)
Saskatoon's mayor, Charlie Clark, congratulated Rogalski in a tweet, adding that unfortunately Saskatoon doesn't have an IKEA store. The Premier of Saskatchewan, Scott Moe, congratulated Rogalski on Facebook.
Rogalski, who likes to do arts and crafts, told CTV News that she also enjoys the strawberry and rhubarb jam her family makes.
THINK AND DISCUSS
Audrey Rogalski's design has an interesting story behind it. What is it?
Ronald McDonald House in Saskatoon received some money, thanks to Rogalski's winning design. What is Ronald McDonald House and what do they do?
Design your own soft toy. You can even make one, by drawing your picture onto paper and colouring it with crayons or markers and then cutting out two of them. You can then glue them around the edges (leaving a small hole for the stuffing) and stuff them with tissues or cotton.
LINKS
Past years' SAGOSKATT soft toys on IKEA's website: https://www.ikea.com/ca/en/new/sagoskatt-toys-2020-pubb398ee80
Saskatoon StarPhoenix article about Audrey Rogalski.
CTV's interview with Audrey Rogalski and her mother, Katherine.
Global News piece on Audrey Rogalski's winning entry.