Popular actor John Krasinski (The Office, Jack Ryan) and husband of Emily Blunt, is now a newscaster and specifically, a good-news newscaster.
He's doing daily from-home newscasts, called Some Good News (SGN). Pretty much like what we're doing here with One Good Thing–trying to offer up some good news in these trying times.
And this edition of his Some Good News may be one of the best things ever, because it involves the entire cast of Hamilton singing to a young girl who, because of the pandemic, isn't getting to see her favourite musical. Hey, I'm not crying–you're crying!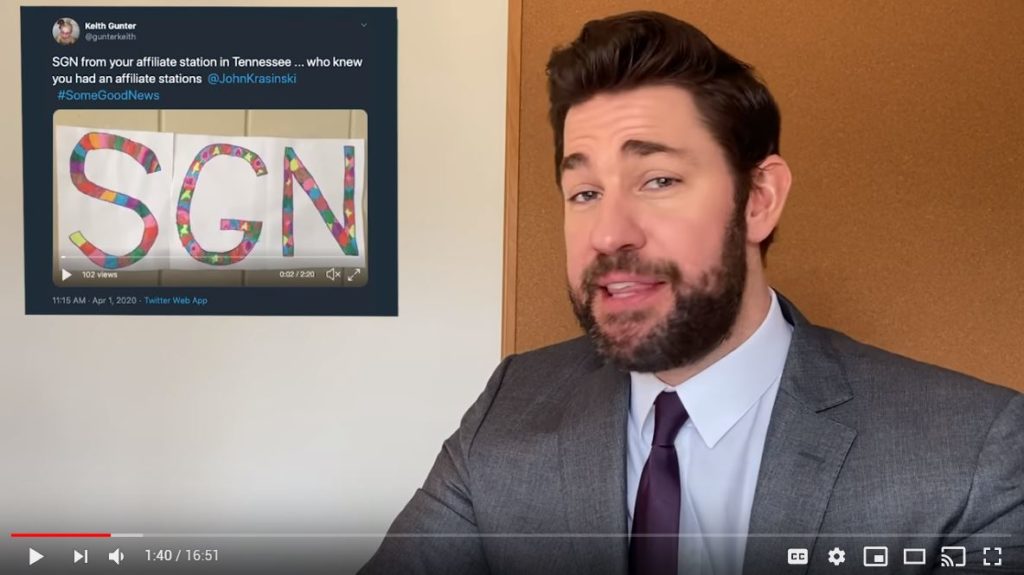 Click the image above to watch SGN on YouTube, or click here: https://youtu.be/oilZ1hNZPRM
Enjoy what happens when Krasinski surprises Aubrey at around the 9:25 mark–or start from the beginning and just enjoy the whole darned newscast. And definitely wait to the end, to see what Krasinski is wearing under his jacket, cause it's adorable.
DONATE TO TKN (OR SEND US GOOD THOUGHTS)
We don't make any money from TKN, but you know what we do make money from? School visits. And you know what you can't do during a pandemic? School visits! So, if you want make a small donation to help keep TeachingKidsNews.com going, please do!
Click here to make a donation: https://www.paypal.com/donate/?token=vPnpfBEB2TT65oQI4ddqyDvriLARC9tgSyJsY_TGfJ6nwif97sf4OiKSKGIK_hQi5lU94m&country.x=CA&locale.x=CA
Mmmmmwah! (Blowing you a socially distanced thank-you air kiss.)
Or, send us good thoughts–that's cool, too–or leave a lovely comment on our Facebook page, which is also nice.