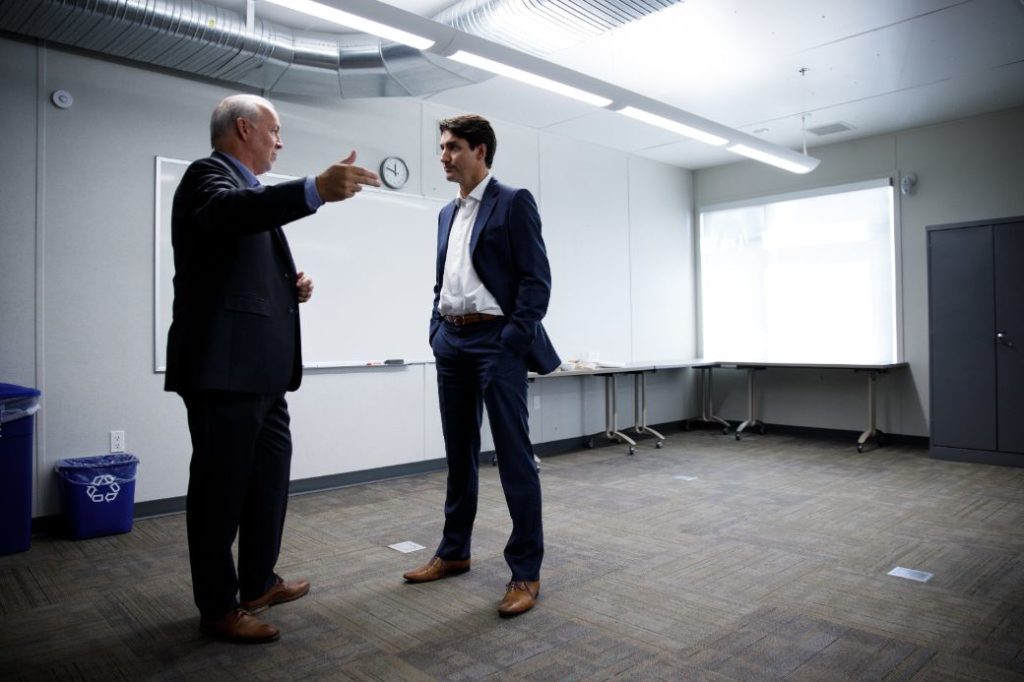 Justin Trudeau did something in 2001, when he was a 29-year-old teacher and before he became Canada's Prime Minister, that he says was racist. Many people are concerned about what he did and what it means for Canadians.
Time magazine published a photo of the now-prime minister of Canada in "brownface" at an event at a Vancouver private school where he was a teacher. Brownface in this case means a white (Caucasian) person wearing brown make-up on their face, arms and/or hands, to mimic being from another race.
In this case, Trudeau was dressing up as Aladdin at a party that had an Arabian Nights theme. It can be considered harmful to some people because, for one thing, it portrays someone's skin colour as something to be "dressed up as" which, of course, it isn't. (A CBC article–a link to it is at the end of this article–gives more information about how brownface and blackface can cause harm.)
Trudeau said that what he did was racist. He said he didn't realize in 2001 that it was racist.
After the first incident was reported by Time magazine, a reporter asked Trudeau whether he had ever done it before, and he said he had done it one other time–when he was a student in high school. (A photo of that incident has since been published.)
The next day, Global News published a video with a third incident of Justin Trudeau in brownface. The Liberal party (which Justin Trudeau leads) verified the video and said that incident happened in 1990.
After that happened, Trudeau said he would no longer say how many times he had done it, because he had not remembered this third incident and worried that there might be more that he has forgotten.
Members of the Conservative Party, led by Andrew Scheer, were given that video, and they gave it to Global News.
Trudeau has given a string of apologies and answered many questions from reporters and the public about the incident.
Many Canadians, from many different backgrounds, have made statements about what Trudeau did. Some of them have asked why many of the news reports focus on Trudeau and the election, rather than asking broader questions about why some people do–and have done for many years–racist things.
The Story Behind the Story: The opportunity for a serious, face-to-face discussion with young people
DISCUSSION AND THINKING PROMPTS
This article is about many things: racism, privilege, "silos" (where people are surrounded by information that pertains to them and not others), tolerance, Canada's history with marginalized people, the election–the list goes on.
We encourage teachers, parents and educators to thoughtfully discuss these and other issues with their students and to consider this event from many different perspectives and points-of-view.
Note: This is "breaking news." There will be more information and public discussion arising from this issue over the next days and weeks.
LINKS
CBC News article about why brownface and blackface are racist and harmful: https://www.cbc.ca/news/justin-trudeau-brownface-blackface-1.5289259
CBC radio's The Current spoke with Tanya Talaga, Manisha Krishnan and Anita Li about why newsrooms must hire more reporters from backgrounds that reflect the diversity of Canadian society:
https://www.cbc.ca/radio/thecurrent/the-current-for-september-20-2019-1.5291245/missing-voices-and-missing-perspectives-trudeau-blackface-scandal-renews-calls-for-newsroom-diversity-1.5292338
Global News video of NDP leader Jagmeet Singh talking about this incident: https://globalnews.ca/video/5923336/this-is-going-to-hurt-canadians-jagmeet-singh-reacts-to-justin-trudeau-blackface-video
Toronto Star article "Trudeau again apologizes for wearing blackface, admitting privilege comes with 'massive blind spot'": https://www.thestar.com/politics/federal/2019/09/19/justin-trudeaus-election-campaign-rocked-by-past-incidents-he-acknowledges-were-racist.html
YouTube video of Trudeau's first apology, as well as statements by Andrew Scheer and Jagmeet Singh: https://www.youtube.com/watch?v=ZkX85WL_tQA
NEW (ADDED OCT. 3, 2019): Data shows how quickly Trudeau's brownface incident "dropped off the radar" of social media.
Toronto Star article: https://www.thestar.com/politics/federal/2019/10/03/trudeaus-blackface-scandal-quickly-fell-off-publics-radar-social-media-data-shows.html
CBC article: https://www.cbc.ca/news/technology/trudeau-blackface-discussion-online-1.5306563
(Note: When we locate the original study, we will post a link to it here.)