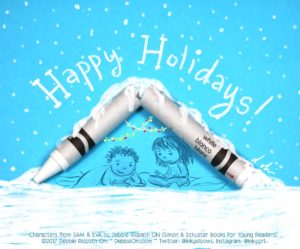 From the team at TKN (Jon, Kathleen, Joyce, Andrew and Monique), we hope you have a happy and peaceful holiday and a very Happy New Year.
See you in 2018!
Do you love this image, btw? (We do.) It's by Canadian illustrator Debbie Ridpath Ohi and it's one in a series of "broken crayon" drawings. Check out all 39 here.
If you're interested in becoming a children's author, she has a ton of advice/resources here and here and check out the picture books Debbie has illustrated at http://debbieohi.com/.
Did you know … she helped revamp the new Judy Blume book covers, too? She did. Check those out here. Oh, and here are her free, printable teacher resources (activity sheets, colouring pages, etc.): http://debbieohi.com/printready.
Phew! One last thing: She also wishes you happy holidays.
Now, go and rest, reader–you've earned it!