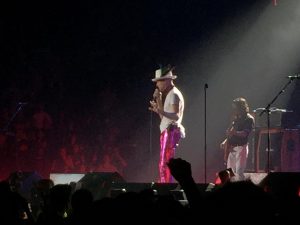 Recently, people across Canada came together in a unique and emotional musical experience.
Canadians said thank-you and good-bye to the iconic rock band, The Tragically Hip.
Many Canadians have enjoyed the unique Canadian sound of the band for many years. In fact, some people say the band plays "the soundtrack of Canada" and the "music that is in Canadians' hearts." Of course, not every Canadian enjoys the music of The Hip, as they're known, but a great many do.
This year, the band's lead singer, Gord Downie, was diagnosed with incurable cancer. He and the band decided to go on a major tour, playing in front of audiences in a number of Canadian cities. Tickets sold out very quickly.
For their final concert of the tour, on Aug. 20, the band played in the band's home town of Kingston, Ont. The national public broadcaster, the CBC, broadcast the concert live on TV, radio and the Internet. More than 11 million people watched and sang along, and even cried.
The CBC interrupted its coverage of the Olympics for the three-hour concert, which was broadcast without commercials.
Canadian Prime Minister Justin Trudeau attended the Kingston concert.
The Hip never really hit it big outside Canada–in the United States or England, for instance. Some people say that while "making it big" in the US would have boosted sales of their music, the fact that The Hip was wildly popular mostly only in Canada makes it a uniquely Canadian band.
The Hip have produced more than a dozen albums, nine of which reached "number 1" in Canada, according to Wikipedia. Gord Downie is the band's lead singer. It also includes Paul Langlois (guitar), Rob Baker (guitar), Gord Sinclair (bass) and Johnny Fay (drums).
During the Kingston concert, Gordon Downie told the audience twice that the people in Canada's northern regions deserve to have more financial support. He said the situation there is "bad." What he meant by that is that many towns in Canada's north do not have sufficient resources, such as clean water, heating and good housing. He wants the country's people and governments to help those regions.
Downie's doctor recently told the CBC that the singer's condition is "still quite early in the disease course."
The Hip's 2016 tour raised more than $265,000 for cancer research, and more money is still coming in.
UPDATE: Gord Downie passed away on Sun., Oct. 17, 2017, according to a statement by his family, "with his beloved children and family close by. Gord knew this day was coming — his response was to spend this precious time as he always had — making music, making memories…"
The complete statement is on the CTV News website.
Related links
Website for The Tragically Hip
CURRICULUM CONNECTIONS
By Jonathan Tilly
Writing/Discussion Prompt
The CBC interrupted its coverage of the Olympics in order to show the commercial-free, 3-hour, Hip concert. Why do you think the CBC chose to do this? What does it say about the band, their music, and their fans?
Reading Prompt: Variety of Texts
Is this the first article you've read by Teaching Kids News? Maybe it's just the first you've read this school year! Teaching Kids News is just one of the many ways that can make reading meaningful to you and a part of your life.Do you like reading news articles? What types of things do you like to read? How are news articles different from other forms of writing?
Primary
Read a variety of literary texts  (OME, Reading: 1.1).
Junior
Read a variety of texts from diverse cultures, including literary texts (OME, Reading: 1.1).
Intermediate
Read a wide variety of increasingly complex or difficult texts from diverse cultures, including literary texts (OME, Reading: 1.1).
Language Feature: Lyrics
Gord Downie is known for his intriguing lyrics and his devotion to Canada. The way he plays with words to create new ideas and images about his homeland is partly why he is beloved by so many Canadians.
What images and feelings do the following lyrics stir in you?
Bobcaygeon – "Cause it was in Bobcaygeon Where I saw the constellations Reveal themselves One star at a time."
The Darkest One – "Come in, come in, come in, come in
 From thin and wicked prairie winds come in
 It's warm and it's safe here and almost heartening
 Here in a time and place not lost on our imagination."
Problem Bear – "Writing a song about Lake Memphremagog and tonight I don't believe there are words to spare and be a tip and a nod admitting it's half the defeat.