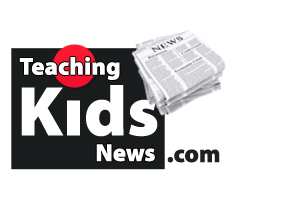 10 Tips for Talking to Kids About Ebola
By Joyce Grant, TeachingKidsNews.com
The news about the Ebola crisis in West Africa is everywhere—kids can hear and see the information on it every day from many different news sources. That's why we published our alternative, kid-friendly article about it, one that adults can use to start a conversation with their child.
Here's that kid-friendly article, written by our Science writer Monique Conrod.
If you haven't yet spoken with your child about Ebola? You should prepare now, because it's very likely that that conversation will be happening in the future. Kids are hearing a lot about it and they are curious and often nervous about it. But there's a lot you can do to reassure them, without being dismissive of their concerns.
10 Tips
Some tips for discussing Ebola, or any challenging news story, with kids:
Stay calm, yourself. Children will sense your calm; children often mirror the emotions of adults. A tip for staying calm during this conversation is to "act like a newscaster." Be objective and factual, like a news reader. Also, remind yourself that there have been no reported cases of Ebola in Canada (or in your state, if that's the case, or your city); and that it's not easy to catch like a cold or flu. It can only be caught through direct contact with an infected person's body fluids.
Learn a bit about Ebola. Don't pretend to be an expert, because (likely) you're not. But know a few of the most important facts before you start the conversation.
Keep your conversation age-appropriate. Younger children will need to be reassured that they, and their loved ones, are safe. You may also want to limit the news coverage that young children hear and see. Older children and teens may want more information. You may want to let them lead the conversation and ask questions. Ask them what they already know about Ebola and go from there.
"Back into" the subject. You can start the discussion with some background information and some facts—that Ebola is not easy to catch, like a cold. That it is mostly in certain parts of several countries in West Africa, etc.
Find "the helpers." Talk to your child about who is helping Africa to deal with this crisis. For instance, Canada and other countries are donating medical supplies and millions of dollars in aid.
Tell your children how they, and their loved ones, are safe. ("Our healthcare system is one of the best in the world.") Show them on a map where West Africa is and how far away it is from them.
Be brief. Listen to the questions your child is asking and focus on them. Don't get ahead of yourself—if your child only wants to know if she will be safe, you can stop there for now. It's something you can always revisit if they have more questions in the future.
Let your child lead the discussion. Ask, "What do you know about Ebola?" That will tell you what their area of interest, what their concern, is.
Don't embellish. You're not an Ebola expert; don't try to be. While we do know a lot about the disease, information is unfolding every day. Let them know that this is a conversation that may "be continued."
Limit media access if necessary. Be aware of how much Ebola news is happening in earshot of your child. You may want to limit it, and other scary news, at certain times if it's getting out of hand, especially for younger children. Of course, you don't want them to see you scrambling to turn off the radio—that will only send the message that there's something bad going on. Instead, just try to be generally aware of how much "bad news" they're around during the day and limit it if you can.
About us: TeachingKidsNews.com provides free, daily, kid-friendly news (and related curriculum material) to thousands of teachers and students each day, in Canada, the US and around the world. Our goal is to help children understand the news and know what's going on in the world.  For more than five years, we've specialized in putting the news into kid-friendly terms, which is why providing these tips. However, we're not child psychologists, and every child is different, so how you discuss difficult news with your child will depend on you, the child and your relationship.