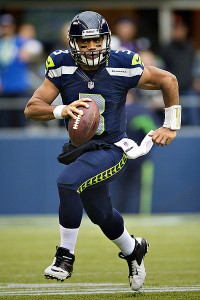 The Seattle Seahawks won Super Bowl XLVIII in grand style.
Seattle crushed Denver 43-8.
Seattle's number-one ranked defence was commanding. In fact, the defence of Seattle kept Denver scoreless for the first half of the game.
Denver's number-one ranked offence was pathetic.
It was the first time since 1990 that both the number-one offence and the number-one defence played against each other in the Super Bowl.
Peyton Manning, Denver's quarterback did try his best, though. He set a record with 33 completions (the number of times a ball is successfully passed to a teammate). Nevertheless, he had a night to forget.
This game in particular was a blowout. Manning could never establish any momentum against the Seattle defence nicknamed the "Legion of Boom." The defence caused Manning to rush many of his passes and throw two interceptions (that's when a player on the team playing defense catches a ball intended for a player on the team playing offence).
The defence was so spectacular that even the game's Most Valuable Player (MVP) was a defensive player. Linebacker Malcolm Smith of Seattle was only the third defensive player ever to win the award. And Smith, who is 24, is the fourth-youngest Super Bowl MVP in history. Smith's memorable night included an interception that he returned 69 yards for a touchdown. He also recovered a fumble later in the game.
The fumble recovery put the ball back in the hands of Russell Wilson, Seattle's quarterback.  Wilson was steady all night. He did not commit a turnover. A turnover is when the team on offence loses the ball to the defence. A high turnover rate can usually signify a loss. Manning had three turnovers himself.
Wilson and Seattle controlled the contest from start to finish. Seattle scored touchdowns in all areas of the game; offence, defence and special teams on a kick return by Percy Harvin.
The victory caps a dream season for Seattle — a season in which they lost just three games.
The Super Bowl victory is the first major sports championship in Seattle in over 30 years.
The Seattle Seahawks are flying high as the 2014 Super Bowl Champions.
CURRICULUM CONNECTIONS
By Jonathan Tilly
Writing/Discussion Prompt
There is a saying that "defence wins championships." In other words, that when there's a big game to be played, it is better to have a great defence than a great offence. Do you believe that this is true? Do you think that yesterday's game proved this expression?
Reading Prompt: Comprehension Strategies
Football includes a lot of words, terms, and phrases that are unique to it. Underline the terms used in today's article that are specific to this sport. What strategies did you use thoughout your reading of today's article to help you make sure you understood what you were reading?
Junior
Identify a variety of reading compre- hension strategies and use them appro- priately before, during, and after reading to understand texts (OME, Reading: 1.3).
Intermediate
Identify a variety of reading comprehension strategies and use them appropriately before, during, and after reading to understand increasingly complex texts (OME, Reading: 1.3).
Grammar Feature: "Nicknames"
A nickname is often a playful name that is given to someone or a group of people. In fact, many people not only have nicknames they are called, they may also have numerous people in their lives who they've given nicknames to as well. Today's article mentions the nickname that has been given to Seattle's stellar defence, "The Legion of Boom." When authors write a nickname, they always place quotation marks on either side to show that it is not actually the name of the person, it is just made up.
What nicknames are you called? What nicknames do you have for your friends and family members? Make two lists and remember to use quotation marks.