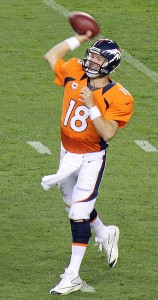 Football quarterback Peyton Manning's comeback season continues to develop.
Manning missed all of last year with a serious neck injury.
He is back in the National Football League (NFL) and playing quarterback for the Denver Broncos.
Manning has accomplished much in his career. He has been a four-time NFL Most Valuable Player and a Super Bowl winner.
Last Monday he had a night to remember, adding to his historic NFL career.
First, the Broncos were on the road playing the San Diego Chargers. The first half was horrible for the Broncos. Manning threw an interception. The offense didn't score any points. Meanwhile, The Chargers scored 24 points.
Then came half-time. The Broncos went into their locker room and made some adjustments to their game plan.
In the second half, the Broncos and Manning came out on fire. Manning completed 13 of 14 passes and threw three touchdown passes.
The Broncos's defense scored twice off turnovers. A turnover is when the offense loses possession of the football because of a fumble or an interception. The Broncos scored 35 points in the second half.
Finally, the clock ticked down to zero. The Broncos ended up with a 35-24 win to come back and shock the Chargers.
The win ties the record for the largest comeback by a visiting team in NFL history.
It was the fourth biggest comeback in NFL history.
It was also the largest comeback win of Manning's illustrious career. Since 1967, there have been 442 occasions where a team has taken a lead of 24 or more points by the end of the first half. Only three times has a team come back to win.
And two of those times have involved Peyton Manning.
CURRICULUM CONNECTIONS
By Jonathan Tilly
Writing/Discussion Prompt
A comeback victory is a special type of win for any athlete. When you are behind in a game, what do you tell yourself and do to get back in it? When you have a lead, how do you make sure you keep it?
Reading Prompt: Reading Unfamiliar Words
Every sport has words and phrases that are specific to that sport. This article contains plenty of "football language." What words or phrases in this article suggest "football" to you?
Primary, Junior, & Intermediate
Predict the meaning of and rapidly solve unfamiliar words using different types of cues, including: semantic (meaning) cues (e.g., prefixes, suffixes, base words, phrases, sentences, and visuals that activate existing knowl- edge of oral and written language) (OME, Reading: 3.2).
Grammar Feature: Writing Numbers
Numbers appear throughout this article and they are written in different ways. Some number are written in words and others are written with numerals.
Highlight all of the numbers in the article. Can you think of a rule which would help you to know how a number should be written?